Why Leasing Modular Buildings Works for Classroom Rentals
Education is one of the foundations of any society. We trust schools to educate the next generation. With a growing population, which we'll discuss later, it's often hard for the educational infrastructure to keep up with that growth.
Leasing modular classroom rentals gives schools a solution to help keep overcrowding down and deliver quality education.
Throughout this piece, we'll explore the population increase and how leasing a modular building can benefit a school. We'll also discuss what products BOXX Modular has to help solve the problem.
Combating the Education Boom
In 2022, Canada's population grew by over 1 million people, which is a record growth increase. The increase was mostly due to international immigration. For example, Ottawa has also been running special initiatives to temporarily take in people impacted by crises like the Ukraine war or the earthquakes in Turkey and Syria.
With the rise in population, there's a rise in educational needs, whether that's at the primary and secondary school levels or collegiate level. Using modular buildings as learning environments lessens the burden on educators and school officials and helps them focus on what's important—education.
The Benefits of Leasing a Modular Classroom Building
Traditional construction isn't quick enough to keep up with the population increase. Schools are quickly running out of space and time to find classrooms for students. Leasing a modular building can help solve many problems facing educators during this time.
Cost-Effective
Building a new school or additions to an existing building can be expensive and time-consuming. You need to create a budget for construction materials and permits, plan it out extensively, and try to minimize any disruption to students.
By leasing a modular building, you find a cost-effective solution where all you have to do is choose your building and, once it's delivered, get it ready for students.
Time-Saving
Not only will leasing a building save you financially, but it also saves time. By nature, modular construction is designed to be completed in a much shorter timeframe. When construction is done off-site, many potential delays are avoided. Due to assembly line methods, it's typically faster to use a modular building than traditional construction, as both on-site and off-site work is being done simultaneously/
Flexibility
Another benefit of leasing modular classroom buildings is you can decide if you want a short- or long-term contract. Short-term leases are perfect for buildings that serve as swing space and aren't needed for very long. While long-term leases, for buildings that will be used for the foreseen future, offer lower payments. And you can renew your lease as many times as necessary.
Customizable
Even though you might only need to lease a modular learning environment for a short period, you can still customize it to fit your needs. If you need more storage space, you can add it during the design phase.
How Can a School Use a Modular Building?
Modular buildings are versatile and can work on a school campus for many purposes including:
Classrooms
Offices
Laboratories
Breakroom/lounges
Washrooms
Storage spaces
What Products Does BOXX Offer for Schools?
BOXX Modular offers several products that can be useful for your school campus.
Mobile Offices
Mobile offices are outfitted with a frame and wheels so you can easily move them around your campus. They work well as a short-term swing space. They can be offices for teachers or administrators, teacher lounges or break rooms.
You can easily upgrade your mobile office by adding a convenient package of practical furnishings, so your space is ready to use immediately once the installation is complete.
Skidded Offices
Skidded offices are similar to Mobile offices in that they can be used for the same purposes. The main difference is a skidded office is set directly on the ground on a steel skid frame. This means you don't need a foundation so the installation time is quicker.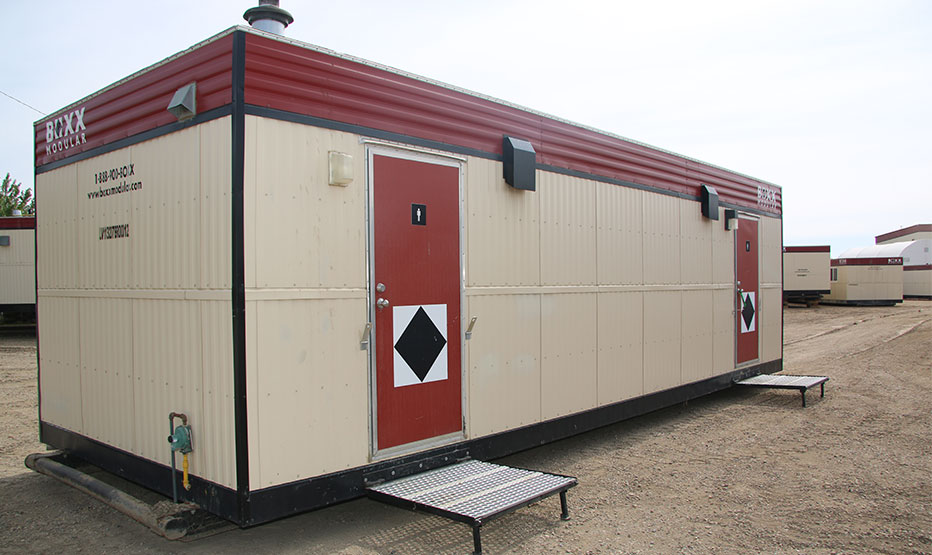 Washrooms
In a school setting, you can never have too many bathrooms. Fortunately, BOXX offers a mobile washroom with flushable toilets, urinals, and sinks. They also come with a wheelchair accessibility option.
They can be delivered with built-in or external water and waste tanks if you don't have the hookups available. Like all of our other buildings, as soon as setup is complete, the washrooms are ready to be used.
Storage Containers
Schools are always short on storage space. Teachers and staff need places to store classroom supplies and other materials, like extra desks or cleaning supplies. These containers are delivered with a lockbox so you can secure them
Why BOXX is the Best Partner for Your Project
Picking the correct modular classroom building to lease can be a stressful process. Making an incorrect choice isn't an option. At BOXX, we do everything we can to help make that process easy and stress-free.
Safety is one of the most important concerns in education. It's essential to be compliant with the most recent Canadian National Model Codes, especially when you're working with children. There is nothing more important than ensuring the safety of the children in your care.
When you work with BOXX, we make sure all of our modular buildings are up-to-code. They go through several inspections throughout the building process and during assembly.
An area that sets us apart is our construction process. We mentioned earlier how the traditional construction process is longer than modular.
We achieve this by building our structures in a controlled environment then each section is transported and assembled at your building site. This means that weather delays aren't an issue so your build timeline won't suffer.
We use sustainable building practices and materials whenever we can in our builds because one of our goals is to be environmentally friendly. This allows us to minimize waste throughout the build to create 40% less construction waste during the building process, which helps the environment.
Working in a learning environment is an enriching experience and using modular buildings can help enhance the experience for students and lessen stress for educators.
Looking for more information on modular classroom rentals?
BOXX Modular has an experienced staff who is available to answer all your questions. Contact us today to start your leasing journey.
Ready to solve your space needs?
Modular buildings are the way to go. Request a quote or contact us today to get the conversation started. We'd love to talk to you about how modular can meet — and exceed — your needs.